If you're using QuickBooks online, you're familiar with how many useful features the software provides for your accounting needs. It's cost effective, available on all your devices, and gives you access to your data anytime and anywhere.
One of the more recent additions to to QuickBooks is the ability to charge an invoice on a recurring basis. This works well for subscription services and industries that offer monthly services.
But can recurring invoices in QuickBooks online handle the advanced features your business needs to automate your entire workflow? How does it handle late fees, convenience fees, and custom overdue notices? If your industry depends on recurring monthly income, then you're likely looking for pro features that will allow you to charge your customers in a way that suits your specific needs.
Let's take a deeper look at how recurring invoices are set up in QuickBooks, and also some of the things it's lacking.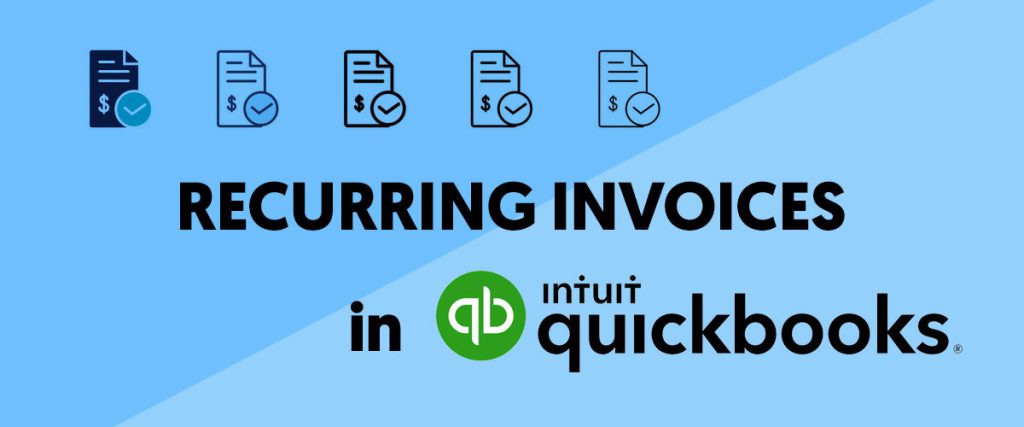 What are recurring invoices?
Many businesses have a need to send out the same invoice on a monthly basis. For example, a pool service might come out the last Friday of every month to clean the pool. That business would want to send the same invoice on the last Friday of every month for $150.
Manually creating the invoice, sending the email with the invoice attached, and receiving payments would be unrealistic for anyone to manage by themselves. Automating these invoicescan save your business a huge amount of time.
This is where automated recurring invoices come into play. By setting up an invoice to automatically go out on an interval you define, this whole process becomes a lot smoother for your business. Your accounting software like QuickBooks might have something already built in to handle a recurring invoice, but by connecting a platform like RECUR360 to your QuickBooks account, you can gain access to so many more features to make everything automated (including late fees and convenience fees!).
Let's first take a look at how recurring invoices are set up in QuickBooks Online:
Creating a Recurring Invoice in QuickBooks Online
Creating a recurring invoice in QuickBooks Online is relatively simple. Here's how:
Go to the gear up top > Recurring Transactions > Click on "New"
Select "Invoice" for transaction type, then "Scheduled"
Choose "Automatically send emails"
Set up the rest of your invoice details, then click "Save"
Repeat this process for every customer that needs a recurring invoice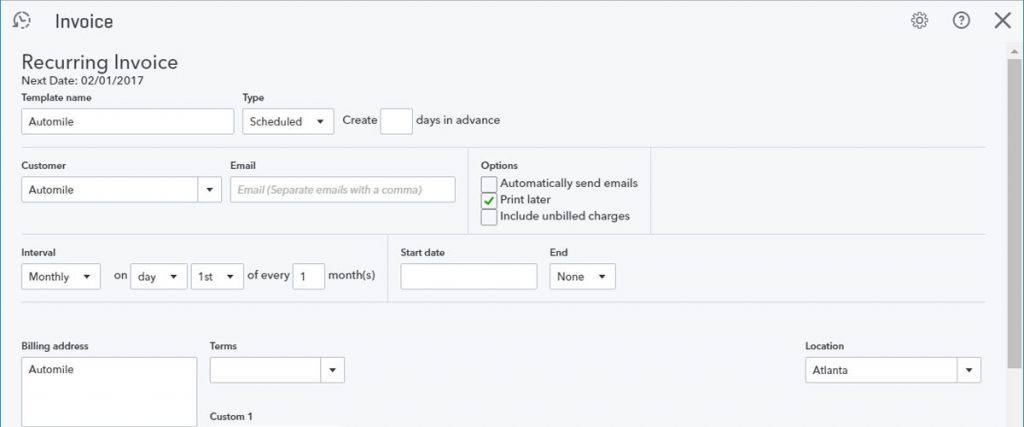 Where QuickBooks Recurring Invoices fall short
Here's what you need to know:
Setting up recurring invoices in QuickBooks Online works for a lot of small businesses that have pretty basic needs. But when you have even the smallest need for customizing your recurring invoices, things start to get a little frustrating.
While it's true you can set up a recurring invoice in QuickBooks Online, the reality is that it's missing some key functionality that your business is likely to need at some point in time.
What's wrong with recurring invoices in QuickBooks? Here are the key things missing:
---
1. They're recorded as sales receipts only. When you use recurring invoices, payments are recorded as Sales Receipts only. Letting your customers pay manually will record the invoice as an invoice instead of a sales receipt. If the payment on the sales receipt fails to process, the transaction doesn't process at all. You need the ability to still process that payment manually in QuickBooks Online.
2. Limited Functionality and Customizations. Set up is easy, but that comes at a cost. After getting your recurring invoices set up, it won't be long until you need some more advanced features such as proration, editing subscription details, one-time fees, and more. This is where a more powerful software comes into play, such as RECUR360, to handle any sort of customization to recurring invoices you might need.
3. Managing paid vs unpaid invoices is a mess. You'll end up managing half your invoices transactions in one place and the other half in another. This doesn't make sense. All invoices whether paid or unpaid should be able to be managed in one location.
4. QuickBooks recurring transactions are mixed in with things that don't make sense. In QuickBooks, all Recurring Transactions are mixed in with other recurring transactions like Bills, Checks, and General Journal Entries. These things don't belong together, and this makes it complicated to view only your Recurring Invoices and report on them.
But what about QuickBooks Desktop?
Handling your Recurring Invoices in QuickBooks Desktop is the same. QuickBooks Desktop does not offer automatic ACH/EFT payments. You'll have to settle for Credit Cards (and that's only if you're using QuickBooks Payments).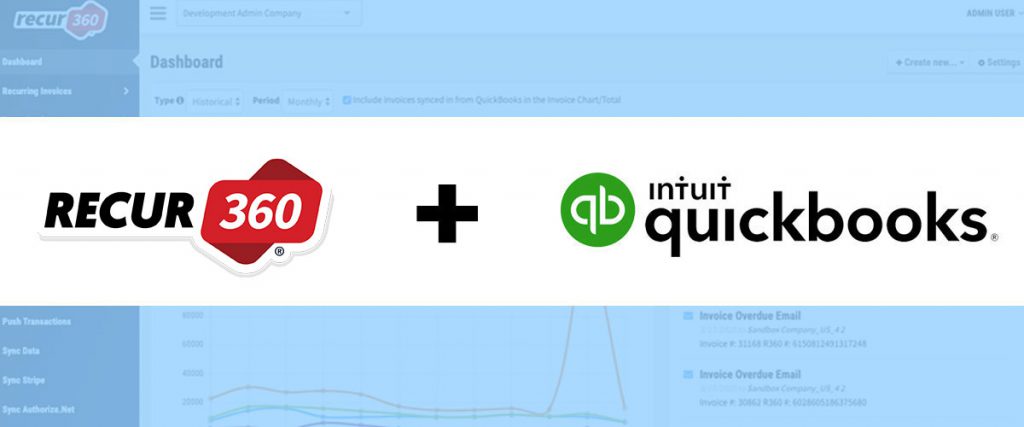 How to automate your entire workflow in QuickBooks
So how can you manage everything in one place, and automate all these actions? Using a service like RECUR360 can do all of this for you and offer a much more robust solution. In fact, you can lessen the amount of time you spend in QuickBooks by automating more of these tasks.
Recurring Invoices that are set up in RECUR360 will automatically sync with your QuickBooks account, and you'll be able to enjoy these advanced features that QuickBooks is lacking:
Use a Payment Processor of Your Choice
Split Invoice and Payment Date
Prorated Invoices
Use Dynamic Item Descriptions in your invoices
Customized Email Notices and Invoices
And way way more